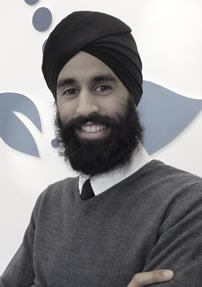 Balraj Sohal
M.Ost, GOsC
Owner and Principal Osteopath, Medical Acupuncturist
Qualified in:
Current Registrations:
GOsC—General Osteopathic Council
Institute of Osteopathy
Balraj is a registered osteopath who graduated from the European School of Osteopathy with an Integrated Masters in Osteopathy.
He has a special interest in pain management of musculoskeletal pain, both acute and chronic. He believes that there is no better healing mechanism than that which exists within each of us and that it is crucial to involve patients in their own recovery.
His previous career as a tennis player has given him a keen interest in rehabilitation and injury prevention via exercise and training. Balraj's treatment approach usually involves hands-on approach with techniques including soft tissue massage, gentle manipulation and articulation, stretching and myo-fascial release. He also includes acupuncture, and relaxation strategies in conjunction with the treatment when necessary. He is passionate about educating his patients by providing postural advice, stretches and exercises to help to speed recovery and to help maintain an active and healthy lifestyle.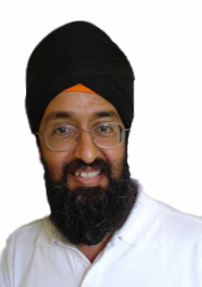 Davinder S Sohal
MSc, D.O., GOsC, BAc, MBAcA.
Registered Osteopath, Acupuncturist, Stress Management Consultant, Weight Management Consultant
Qualified in:
Osteopathy
Acupuncture
Mindfulness Stress Based Reduction
Stress Management
Weight Management
MSc Exercise & Behavioural Medicine
Current Registrations:
GOsC—General Osteopathic Council
ISMA– International Stress Management Association
Current positions:
Mindfulness Practitioner/Instructor at West 12 Health Centre
Working at the Greenford Clinic & Southall Clinic
Clinical specialist , Physiotherapy department Barnet General Hospital(BGH)
Extended Scope Practitioner in Orthopaedics BGH
Recent courses:
Biopsychosocial Management Of Complex Patients With Pain (5 day), Keele university, Staffordshire
Davinder has been in practice for 33 years. He is qualified and registered in osteopathy, acupuncture and stress management. He qualified in osteopathy in 1983 and started working in private clinics and teaching at the British School of Osteopathy, followed by lecturing at the London School of Osteopathy until 2005. He then qualified with a licentiate in acupuncture in 1986 followed by a B.Sc in acupuncture in 1988. He joined the Barnet & Chase Farms NHS Hospitals trust in 1994 and is currently working as a clinical specialist in the physiotherapy department and extended scope practitioner in the orthopaedic department with Mr Bajekal an orthopaedic consultant surgeon specialising in spinal problems.
He is qualified in stress management and registered with the International stress management association (ISMA) and completed a MSc in Exercise and Behavioural Medicine in Dec 2009. His special interest lies in using and developing holistic approaches to complex and chronic pain and stress conditions. All his treatments are aimed at restoring optimum health. He provides appropriate advice and information so that patients can maintain good health via a self maintenance and preventative health strategy.
He also completed REPs Level 4 Obesity management course to include skills and knowledge of Diabetes & Metabolic syndrome in Sept 2010 with the Weight Management Centre.
The following are some of the conditions that he has treated in the clinic: whiplash; headaches; neck pain; spinal pain; lower back pain; sciatica; shoulder and arm pain; frozen shoulder; tennis elbow; hip, knee and ankle pain; sports injuries; RSI; osteoarthritis; stress- related conditions and lifestyle advice.